Number 9/10
1994, Dome of the Rock, al-Quds a.k.a. Jerusalem, Palestine & Israel. I've been there many times now, know my way around the Old City even at night, but over the years I got tired of that conflict that very much defines the region. Back in 1994, my second time in Palestine-Israel, things were looking up. The Oslo peace process was underway, Yitzhak Rabin and Yassir Arafat still alive, and the peace treaty with King Hussein of Jordan had already changed border formalities. There were more crossings to be expected soon, and one was allowed to re-enter Jordan from Israel across the river Jordan via Allenby/KingHussein Bridge. However, that would entail the dreaded stamps that showed you'd been to Israel – a fact that would block access to many other states like Syria, Iran, Sudan … In 1994 things changed so quickly, it was hard to keep track. Remember, there was no public internet yet!I arrived shortly before Christmas, and fell ill. I spare you the details, but it was seriously unpleasant, what with being in a dorm, and a mixed dorm at that. You won't find this anymore in the Old City, or anywhere in Palestine-Israel perhaps.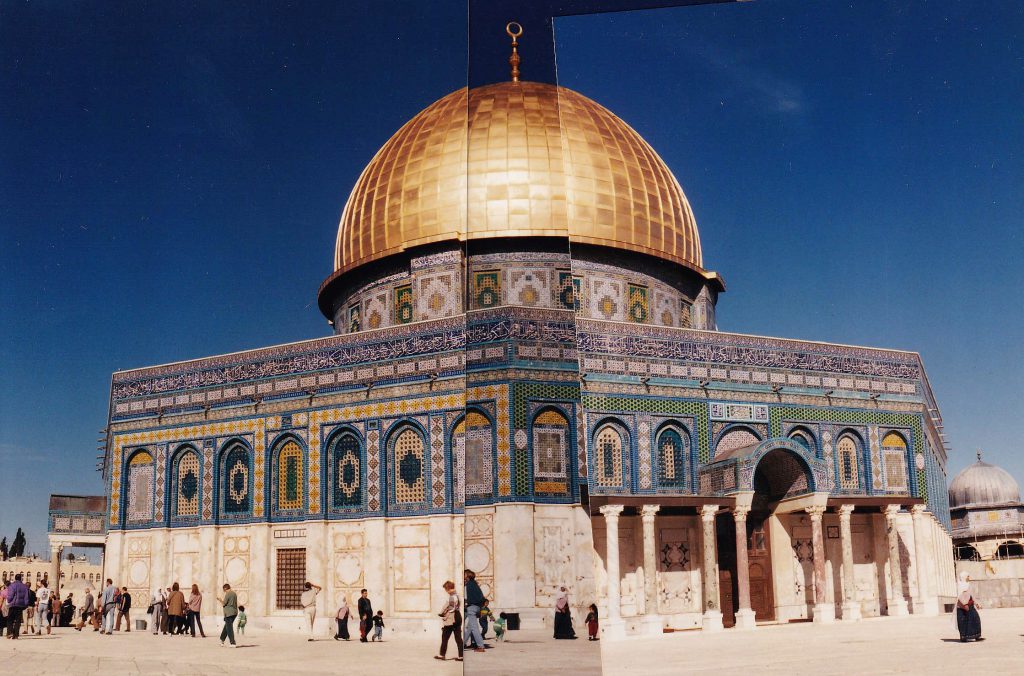 For the next few years, my usual place to stay was what is now called (I believe) Hebron Khan Hostel. Back then we had big beer parties in the basement, and my cure from that illness involved a day of fasting and half a bottle of strong vodka plus two pain/fever killers. Years later, you wouldn't even find alcohol-selling shops anywhere near the area. On the day of Christmas Eve, I treated myself to German bread (Heidebäckerei!) which I had found in a Jewish supermarket in the new town, some cheese and red wine, which I enjoyed just outside the city walls. A couple of hours later, I'd join the queue at the phone booths outside Damascus Gate, to call my family. It would be the last time I talked to my grandad who died a few months later. During that phone call something happened: some 200m away, a car went up in flames. It was a mild explosion, nothing too bad, but bad enough. As I was talking to my mum, Israeli forces pulled in, snipers aiming their guns in all directions – just far enough for all of us not yet to run away. In 1994, Palestinians were allowed to buy fireworks for the first time, and they did. Now with the Israeli forces on the scene, young guys started throwing fire crackers from the nooks and corners of the town wall. It got scary because it sounded like gunfire. I kept on telling my mum that everything was fine, and tried to end the call and leave the scene. Later that night, with some people in Bethlehem during the Christmas ceremony there, we left just in time before things went sour as groups of young Palestinians seemed desperate to escalate tensions. One person got shot, and several were injured in the stand-off between Palestinians and Israelis.
During that stay, me and two mates from the same hostel got beaten up by some six or seven Palestinians in the Old City for no good reason whatsoever. It shaped my view of Palestinians a great deal, and it takes me some effort to let reason prevail when looking at their situation.A few months later during that journey I returned for some days, stayed on the covered rooftop for 5 DM/a night with some 20 other travellers, and the biggest challenge in that was to pack your sleeping back properly lest vicious looking Jerusalem street cats would make themselves at home in it.
I went clubbing one night, to the Jerusalem Underground, where I got quite drunk amidst drinkers and dancers and young Israeli soldiers of both sexes who went dancing with their guns over their shoulders. Every once in a while you had to push a barrel of an Uzi away from your ribs, I'm not kidding. On my way home, rather drunk, I arrived at the big crossroad of Shlomo ha-Melekh and Jaffa St, at perhaps 3 a.m. There was a bus in the middle of the road, stationary, and much destroyed. Glass from its windows everywhere. On my right hand were Palestinian youths, stones and other things in their hands. On my left Israeli forces, guns aimed at the Palestinians. I stood there for a while, and since I wanted to be in bed, and since there was enough light, I raised my arms, made eye contact to both sides, and walked right through them towards New Gate. I thought, you may carry on with your games when I'm asleep. I woke up the next morning and considered myself lucky and brave, and also: a complete idiot. I don't think I'd do that anymore. Then again, I'm not traveling that side anymore either. I feel I should add that I'm also quite familiar with rather systemic aggression exerted by Israeli forces, and even in everyday life, against Palestinians. It is an aggression that's been going for almost a century now, under the guise of "promised land"-attitudes, and they seem to open a new chapter even now. But seeing as the media are used by both sides to take the whole world hostage, I rather make use of my privileged distance and tune out, and say let them sort themselves out, I'm tired of it.