The last weekend offered two very different encounters with homosexuality, or rather: images of (male) homosexuality here in South Africa.

The first was during a brief meeting with artist Ayanda Mabulu in his studio at Victoria Yards. Ayanda was busy working on a new painting, but he had a few moments and shared his visions on how we should help change views of women in society (or so I recall). A nice guy, and good to talk to.
[There is an explicit image coming up as you scroll down. I've warned you.]
… a really nice guy, I think, and that doesn't take away from his more controversial art, in particular his criticism of president Zuma. In more than one painting he has depicted Zuma in explicit scenes of aggressive homosexual intercourse, and needless to say, he hasn't always made friends through it (one of many reports here). The latest (I believe) of his paintings, in which Zuma quite literally fucks Madiba (= Mandela) in the arse, was there in his studio – see for yourself here: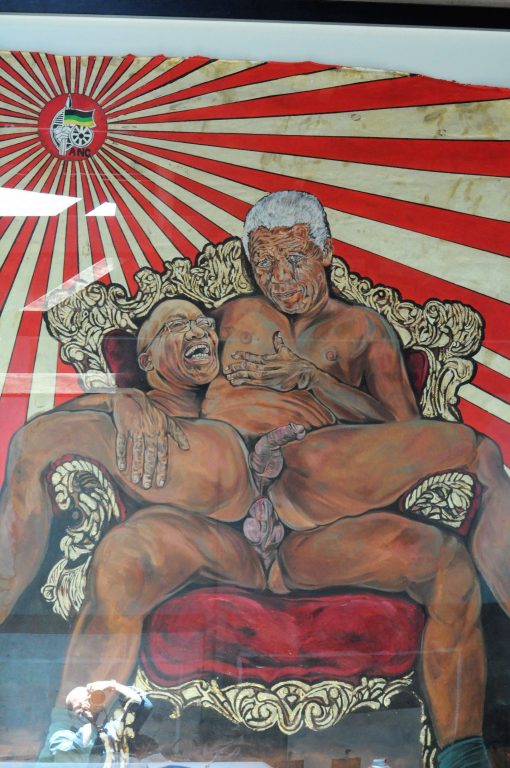 Obviously, this is extremely provocative. It also says a lot about the cultural environment in which homosexual imagery can be used to provoke so easily. Still, in which other African country could you come up with a painting like this and not disappear or die from a mysterious sudden illness? That's definitely one of the pros about South Africa! As is the fact that you don't go to jail for being openly homosexual here. A night out, for instance in one of the clubs around Melville's 27 Boxes, will allow you to encounter homosexual couples (or triples, who knows), where in other African countries you'd see stones flying, police arriving on the scene, and the gay couple being taken to jail. And yet …
… this brings us to the next event, same day, different medium, but just as controversial. Inxeba – The Wound has sparked heated debates and protest around the country. I won't spoil your experience of it – just watch the trailer below and go and see it. BTW, the title is in isi!Xhosa, so please make the effort and pronounce the X in it as a lateral click, that is, one produced with one side of your tongue. Don't be shy, you can do it!
Movie theatres in South Africa had scheduled Inxeba for early February, but when it started showing here, many withdrew it out of fear of violent protests and in response to death threats to cast and crews, even of cinemas. Especially in Eastern Cape, the province predominantly inhabited by Xhosa. Elsewhere, you may find the movie to be sold out, and as for ourselves, Chimz and I barely managed to sneak into Bioscope, an independent cinema in Jo'burg's artsy liberal Maboneng precinct. Xhosa chiefs are aiming for a complete ban of the movie, and I can understand their reaction just as much as I find it a really good movie with a controversial theme. It is meant to provoke, and it does, and I believe the provocation is making one or more important points, and it will not be lost on non-African audiences.
I was particularly keen on audience responses in the cinema. A first came before the movie even started, in the form of a guy sporting a tee with the caption "I'm not gay, but $20 is $20". Really? I suspect it was intended to be a sign of liberalness, but it fails in so many ways. Or maybe it was exactly the opposite. Other responses were mainly by female audiences (judging by their voices), and they were in admiration of a cool pair of sneakers put on at a crucial moment, and some very disrespectful (in a rebellious sense) speeches.
I'm happy I went to see it, and went to see it here. Thanks very much!
UPDATE 28 February 2018: The movie has been X-rated, and is currently not shown in any cinema across the country, as far as I know. Ridiculous, but part of the Kulturkampf (culture war). See some commentary here. It reminds a bit of the Ulysses case in 1933. On a related note, the main actor also is a singer, and I post some clips below. Sensitive and quite provocative in a largely homophobic environment (except some quarters of Jo'burg).