So, after loads and loads of stressful things, annoyances and all, I'm out. Out here on my way, and treading unknown paths mostly on my own, the feeling of it being my way is so much more intense …
Amidst my preparation chaos, my Göttingen friends insisted on a farewell dinner. I agreed on the condition that I didn't have to do anything. It was great to see how they made sure it was going to be a good night – with Ibs preparing domoda in Katrin's garden. This was in fact my second farewell party, the first – very intense and one of the best of my life – had happened two weeks earlier at the end of our summer intensive Gestalt Therapy week.
From among the many farewell gifts I have been given, this ring stands out for many reasons, and I'm happy to wear (on changing fingers). It's from Mexico and has tiny footprints on it. Thanks, Darrin! I know you meant to give me something to protect me 😉
Leaving home: mom, emotional, in the door, her last words for me being "Leave them ladies alone". How dare you?! Mom? I was really surprised. And dad desperate to find a parking at the station so he could wave me good-bye from the platform. But we missed us. I notice that mobile phones and more recent features like WhatsApp make a departure really difficult. Do we depart really? Part? I remember my long journey in the mid-nineties. Pre-mobile time, for me at least. Pre-email even – imagine! Only a few years and journeys later, in Cappadocia, I recall how this little Turkish village Göreme featured at least three internet cafés. Times they are a changing … So back in the nineties, I had an agreement with my parents to call whenever possible. Oftentimes it would be once a week, from Syria, Jordan, et cetera. Often collect call (does anyone remember?). I learnt later that they paid 10,- DM once they said they'd accept the call, and then several DM per minute.
Now we've exchanged a number of messages during just one day. Which tells me I need a media detox. That's a plan. Let's see how it works.
At least my luck holds on.Things at the South African embassy went smoothly, they have all my paperwork now and will hopefully stamp my temporary residence permit into my second passport. What a great thing to have!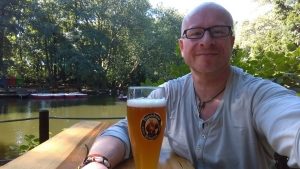 Relaxation starts immediately afterwards, in Berlin's Tiergarten park. For the first time perhaps I can really let the idea sink in that in a few hours from now I will be in Uganda, starting my gap year in Africa. So cheers to that with a nice Hefe Weißbier (yeast beer) and Bavarian style Leberkäs with potato salad!
A night in a mainly Russian/Polish Berlin B&B later, noticeably close to the airport, I leave my phone in the rental car. With the keys dropped in the return box, that phone, or else my flight, looks like a goner. Panic! The horror! My plane is scheduled for 6:55, and Europcar opens at 7 only. But serendipity prevails, as I enter the terminal, I learn that my flight has been cancelled, and I will be put on a later plane, still to get my connection in Brussels. Never has anyone been more pleased about a cancelled fllight, and I let the ladies at the Brussels Airlines counter know! With my phone back, I board the plane at 8, and say bye bye to Germany.
See you later, guys!