On my way from Livingstone to Germanland, I quickly stopped over in Jo'burg, and thanks to Vuyi (enkosi!), I could not only drop a lot of my stuff here, but also enjoyed my first night out in the big city. I was impressed by the skyline at night – where can you see anything like this in Africa? (only partly a rhetorical question) We enjoyed jazz pianist Yonela Mnana in a bar that was called, well, Kama Sutra, seedy names for some of their dishes included. But don't get funny ideas, it's a really nice bar. It was on this night that I realized I would be living in a major metropolis for the next six months (greater Jo'burg has 9 million people). The thought scared me somewhat, which did not exactly alleviate any worries about this town's notoriety for crime and violence. And on the way back we saw police with firearms walking into a compound. Most likely a burglary. Welcome Johannesburg!
Some ten days later I was back here again. The immigration officer, obviously impressed by my academic title and the fact that I'd work at UJ, asked me to marry her. Again, she is number x on my list – in truth, I stopped counting. But an immigration officer, well, that's new. Maybe if I had a uniform fetish …
Anyway, I was picked up at the airport by a University of Johannesburg (UJ) driver, who unlike what I had been promised had no clue where to take me. I remained calm, after all – T.I.A., and a solution will be found. An hour or so later, and after numerous phone calls to find out phone numbers of people who may know more even in this holiday season, I was put in an appartment in a nice lodge in Aucklands Park, round the corner from UJ.
Jo'burg welcomes me with a major music event, and if you know me (you do, otherwise you wouldn't be here, or would you?) that matters a great deal to me. The Afropunk Festival for the first time on the African continent, and I'm here. Ngiybonga! (my Zulu is coming, kancane kancane – now if you read this, the c is a labio-dental click – yes, you can do it!)
Unfortunately, my replacement phone is not capable of taking good pics, so bear with me and enjoy some mediocre impressions of the most colourful two-day News Year's celebrations I've known, if in questionable low-fi quality or through external sources where my camera failed.
My musical highlights were Blitz the Ambassador, The Brother Moves On, Urban Village and Thandiswa (a long time favourite). Normally, DJs don't do much for me, but the two sets by Anaïs B from Paris really rocked the floor and captured me. Sorry, there is little to no actual live coverage available just yet. In spite of the massive rain and storms that hit us on Saturday, which left quite a trail of destruction across Gauteng, people enjoyed themselves here. And I'm happy I could be part of it.
A memorable moment was when, during the performance of The Brother Moves On, strong, critical remarks were made about white people. A black girl next to me leaned over and said: "Don't be offended! You're one of the good guys coz you're here." To which I replied that I didn't feel offended at all, and thanked her – and we had a good time together, and some drinks, until I left for another drink and lost sight of her.
As for the Afropunk scene – you may wanna see this and theclips below:
As things stand, I'm sharing an appartment in a beautiful lodge in Aucklands Park with Tuğçe from Istanbul, who is here to work at Constitution Hill for two months. Nice company! And we both enjoy life being facilitated by house helps, most notably Christina and Buyi. Africa, you are spoiling me, that is for sure! As for my work – we shall see. My immediate colleague and host has resigned, all else needs to be discussed.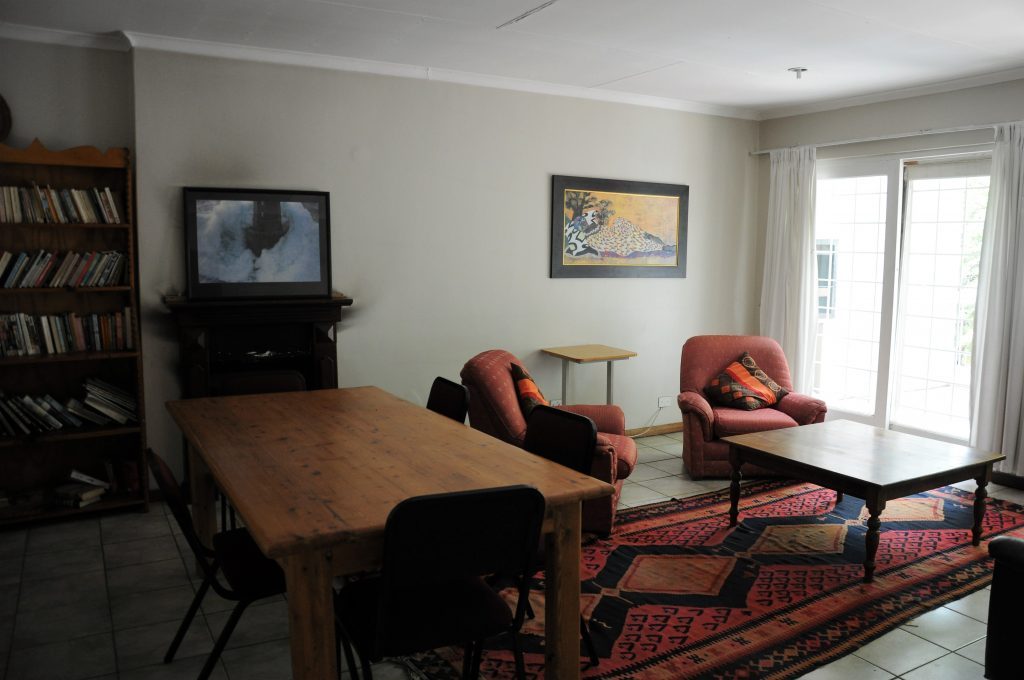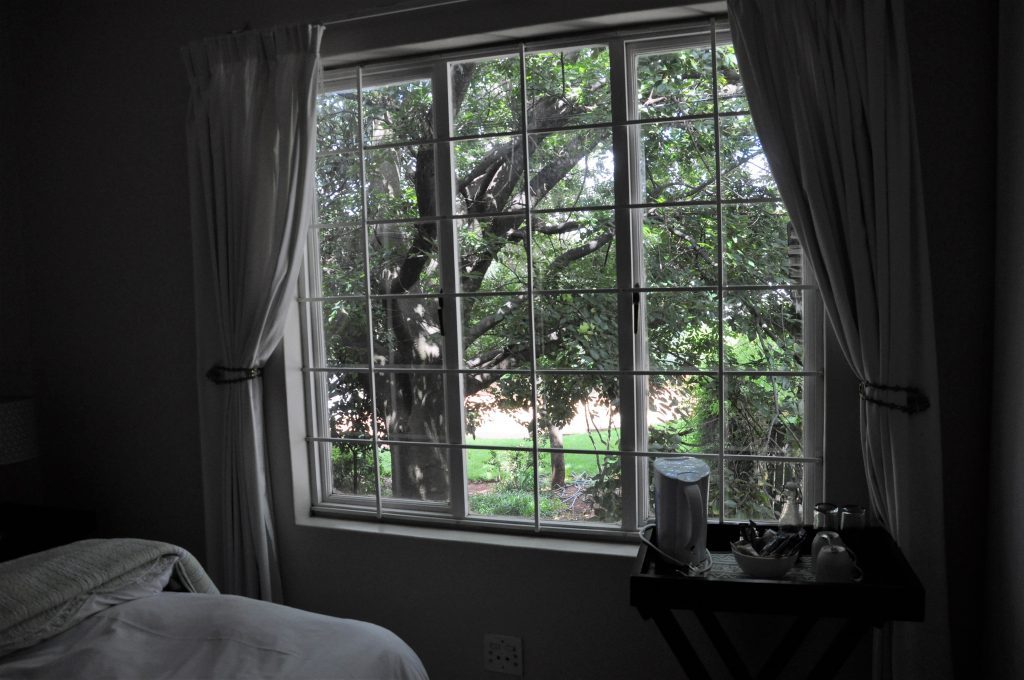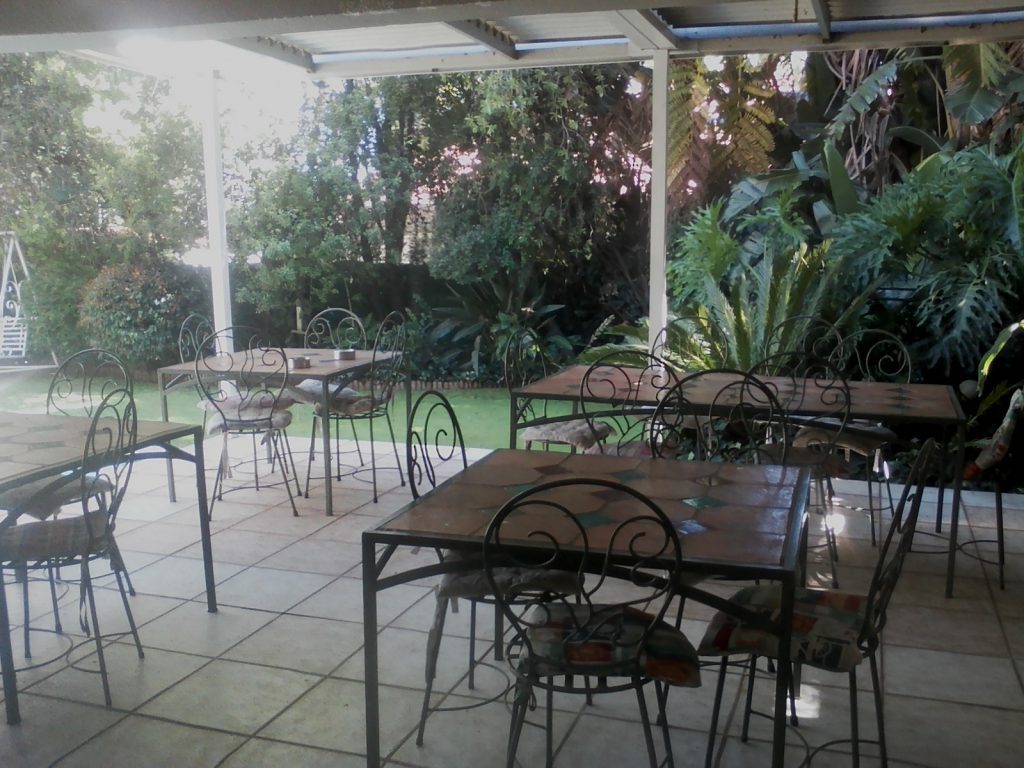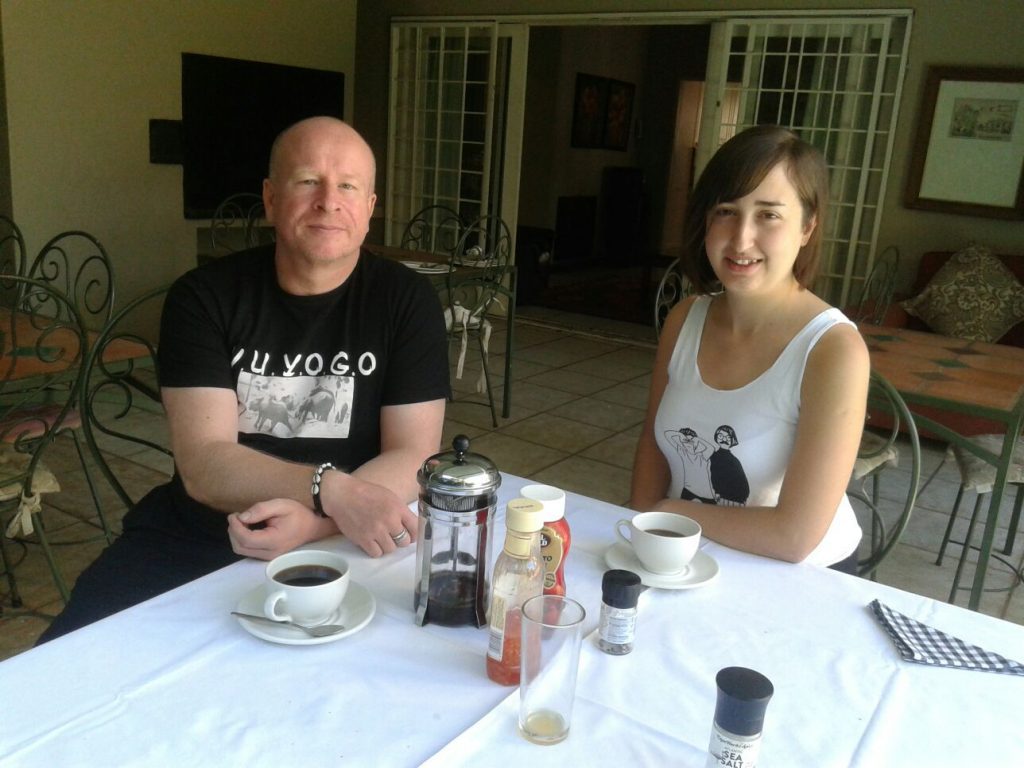 Oh, lest I forget: I bought myself a djembe. And now that Vuyi has brought me my things, especially my guitar, I'm complete again. And after I showed Tuğçe how to eat pap (the maize porridge elsewhere known as nshima, nsima, sadza or ugali) – under the supervision of our super mama Christina here, she wants to learn some drumming – you will see and hear more in a few, I'm sure!