After getting stranded for one day at Dar es-Salaam airport due to technical problems of our Air Malawi carrier, I arrive in Lilongwe and am being picked up by my old friend Chimwemwe. She'll be my guide and companion for some trips through this charming country, the so-called "Warm heart of Africa".

My decisive song for Malawi is Lawi's "Life is beautiful" (another hotel-room recording):
I encountered it for the first time three years ago, when I first attended the Lake of Stars Festival, and it hass always intrigued me with its emphasis on the beauty and joy of life in Africa. This is important. Joy, in chiChewa chimwemwe, like the name of my friend. I have seen few places during my travels, or even less so back home, with so much joy as here in Malawi. Against all odds, one should say.
Malawi is poverty-stricken, and very often it occupies last positions in economical rankings. Traveling through the country, this becomes obvious by the numerous signposts of charities operating in every village. Maybe this is part of the problem
as noble laureate Wangari Maathai suggests more than once in The Challenge for Africa. Climate change has had a significant impact over the last few years, when rainy seasons tended to be meagre, and water levels dropped leaving large parts of the population at risk of famine and the country's hydro-power supplies staggering. Thus upon checking in at Kiboko Town Hotel in Lilongwe, I am being reminded of the shortages that are part of daily life in Malawi.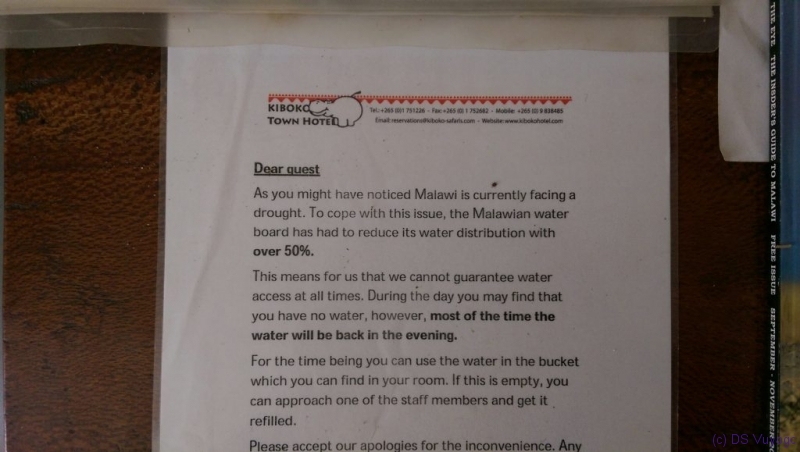 At the time of arrival, Malawi was also stricken by a mass hysteria which raged in the southern parts of the country. Supersticious beliefs made people feel scared of 'blood-suckers', or human vampires. Allegedly they would come and suck your blood in order to get rich. This may sound nuts, and it is, but it led to several deaths of people suspected to be vampires. So the US government as well as the UN pulled out peace-corps volunteers and other staff, and the Malawian government increased the police forces in southern districts. The general advice was to stay away from rural areas in the south, and not to be found behaving strangely or in suspicious ways or to have a nose-bleed in public. So the real problem is the mob violence that arises from this hysteria. I know from personal experience how deeply rooted the belief in witchcraft and magic (juju!) are even in well-educated Africans. I'd love to know more, would love to visit one of the infamous witch villages in Zambia (for a recent movie satire on this otherwise bleak topic see Rungano Nyoni's I am not a Witch). But I rather stay away – such visits require purpose and preparation, otherwise it becomes sensationalist.
Ironically, Lilongwe greets me with a downpour, perhaps the same weather front that had trapped me on my last day in Dar es-Salaam? Since Malawi's attractions are not exactly gathered in her capital, we go up to near Nkhotakota, where Pottery Lodge is a wonderful spot at the shores of Lake Malawi. It is run by a couple, and while I never get to see the German man, Chipo, who is Zimbabwean by origin but had lived for over 40 years in Germany, makes us warmly welcome. Surely, my German background PLUS my love of Zim helped. Chipo was non-plussed when I took out my mbira and started playing Nhemamusasa, a traditional piece from Zim. She immediately ordered herself one, so the local musicians who would sometimes perform at the lodge could learn how to play. The new owners of Pottery Lodge have indulged in pop-culture references, and using the allusion to a certain boy with the surname Potter, they named some chalets after the houses the students at Hogwarts are organised in (we were in Hufflepuff!). I hope J.K. Rowling doesn't hear of it – she is known to request money wherever Harry-Potter-references are made.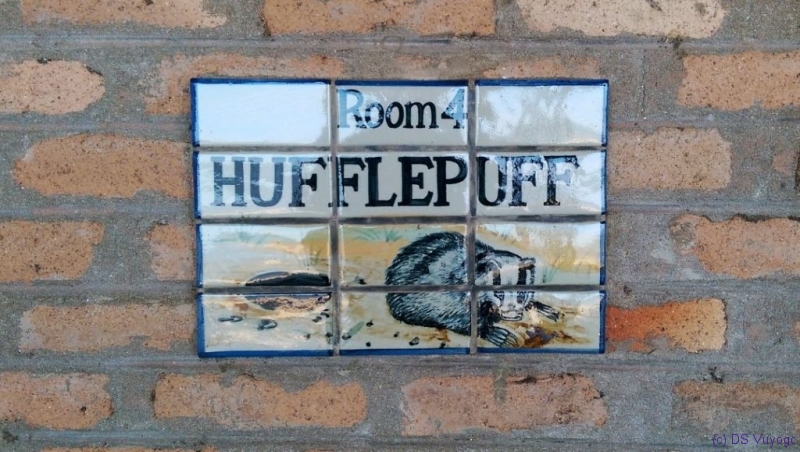 Lake Malawi, also called the Lake of Stars, is truly a beauty, and the joy of being here is not wearing off even though it's my third time in this country. It has a lot to offer, from beautiful beaches with beautiful views to excellent fish (chambo!), which makes it a paradise as much for divers as for food-lovers. Two years ago, I caught bilharzia, that's a risk. But this time I'll spend a Euro on drugs used locally to get rid of them nasty worms, should they have crawled into my body again.
To my surprise I learnt that Lake Malawi was the scene of the first naval battle in the World War I, or the Great War as the British call it. The story is roughly runs like this: Germany and Britain each have a naval vessel in the lake, and the two captains are jolly good fellows and enjoy a drink together from time to time. Come the war, the British captain sails up to where the German boat is, and fires at it. The German captain is upset, and shouts "Are you drunk?". Upon seizing him, the British captain explains that their countries are at war, news which had not reached the German. A major victory for the Brits! Apparently, a cannon from the British vessel is still to be seen in Mangochi, but I haven't been there yet.
Like many of my African friends, Chimwemwe has never seen an elephant in the wild, so we decided to go to Nkhotakota Wildlife Reserve. Upon entering they said that elephants were plenty, however, during the two hours we drove around there we didn't see as much as an ear of an elephant. Or in fact of any animal, except one baboon. That was certainly the most expensive baboon sighting in human history!
A trip to Nkhotakota itself was more successful, and one of the attractions clearly is the tree under which Livingstone pitched his second camp at Lake Malawi.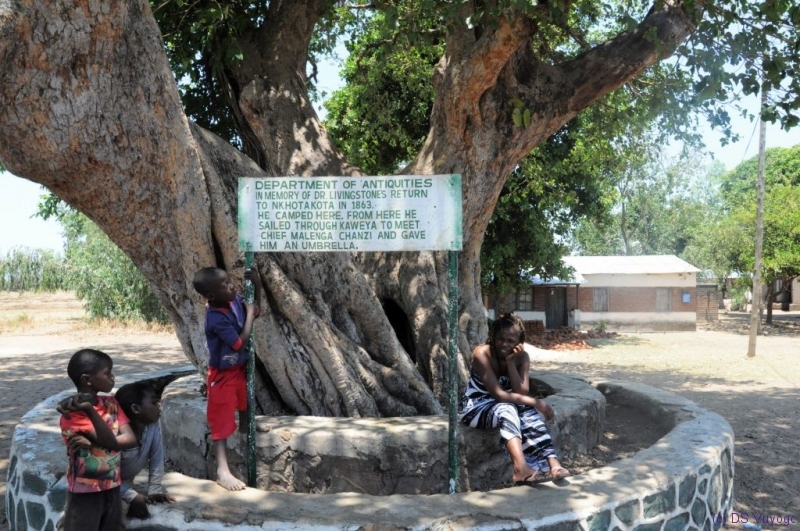 Via Salima we went to Dzaleka to attend the Tumaini Festival at the local refugee camp. What a supreme idea, to celebrate in a place where displaced people are stuck for many years, under mostly bleak living conditions. The festival featured everything you'd expect, modern as well as traditional music (most notably drummers), poetry readings, theatre performances, food stalls and shops, celebrities. As power supplies were difficult to organize, the last performances after 6 pm were held in almost utter darkness. I was impressed by the number of children roaming the area and trying to get food from festival goers. Also, by how Chimz beat yet another guy at pool (she be good, yall!). And by the fact that the American ambassodor to Malawi, Virginia Palmer, mixed in with the crowd without any security around her. Where else in the world is this even conceivable?
Main musical acts were Tay Grin and Japanese band Iyco & Kaka Furaha, and I was particularly fascinated by Malawi's one and only rock band, Moto Buu. They were on after 6, and hence had to play in the dark!
Being there with Chimz also meant I got to know the organizer, Trésor Nzengu Mpauni a.k.a. Menes la Plume, and met up with Neil (of Neil and the New Vibrations) again, whom I knew from Lake of Stars two years ago. Indeed, when I went to the aftershow party at Neil's live-music club Grittah's Camp, I was greeted like I was an old Lilongwian. The party was fab, too, with great rumba music and the appropriate dancing.
Inbetween I left to go south. Via Dedza, I drove down the M1, which literally forms the border between Malawi and Mozambique. Every few kilometers, a road turning off to my right would have a road block serving as a border crossing point.
On the way I came across a huge area of rock art again, at Chentcherere, where fairly recent Bantu symbols of the ominous nyau tradition are painted over ancient Batwa paintings (see my earlier post here and find a discussion of the site in this MA thesis). If you want a glimpse at nyau masks and dancing, have a look at this video for Patience Namadingo's "Msati mseke (who, from a Christian perspective, does not approve of this cult in this song, as has been explained to me).
Eventually I pitch my tent in Safari Camp in Liwonde National Park. Out there again! The camp is beautiful, and beautifully situated near the Shire (pronounce Shay-ree) river, that links Lake Malawi and the Zambezi. I meet two Swiss ladies, who tell me about their exciting visuals of elephants approaching the camp the night before. From a platform, a safe place, the giant grey bodies were visible as they moved between the bushes under the light of a near-full moon.
I still envy them! Though I have no reason to complain about the lack of elephant encounters there. On my second night I heard them coming, that is, you hear the breaking of branches and small tree trunks, and some ancient sensor in you tells you that something big is coming near. Jurassic Park, like. It scared me shitless, considering my tent is minuscule, and after some hesitation ("oh, come on , you can take this, others do …" – and crap like that) I sneaked into my car. I could see the torches of the nightwatch as they were trying to contain the elephants' movements around the camp. Mostly in vain. Then one of the giants broke through the bushes opposite me, and wow, I was nearly breathless as she (a cow with a calf) took a few steps towards my car before she turned away.
Moments later, a young bull, obviously annoyed, comes around the nearest bush and heads straight for my car. I was sure he would take it out on my car, but no, he stopped right next to me, leaned over the hood and started picking branches from right above me. An arm's length away. Sheeeet. This is utter fear, I noticed, very ancient and yet alive. A minute or two later, he turned (on his heels?) and charged for the nightwatch. They know how to handle this, and I must say, respect, guys! A lot of respect!
Fred, the Dutch guy who owns the camp, has lots of stories to tell about the animals and misguided tourists (mostly Germans, in his assessment), who come to the camp and all of a sudden want to hug an elephant. Madness, utter madness. And most likely fatal.
Again, it's beautifull. Take a boat tour on the Shire before sunset, and you get to see a lot of animals and marvellous landscape. The following clip was made for two young boys in Germany, hence the tone and language 😉
I also met Greg alias Vagabonding Fitz, who is on a world tour, or so depending on how far his money takes him . We had great conversations, and I like what he writes on traveling – find him here.

A memorable incident: having checked in at another place in Lilongwe, I notice that my bathroom has two doors, one giving into another room. I ask the reception guy to lock it, and he comes up with the excuse that previous occupants of the other room had broken the key. With a box full of keys he's standing next to me, telling me he'll talk to the owner tomorrow. I don't accept, and after a quick glance at the lock reach for a key in his box, and lock the door.Okay, I was lucky, but not only. I also had initiative, which he lacked comletely. Or self-confidence, pride, or a mix of all this, and not unfamiliar to me by now. I had to think about this a long time, this helplessness, dependence on the judgment and permission of others. Lack of initiative and accountability. Or lack of mindfulness, as with my fan. The fan in my room must have been there when they put in a moskito net. Unfortunately the space between net and fan is not sufficient for the fan to operate. Rather than moving the fan some 30cm, which would have required a hook in the ceiling to be moved by that distance, they went to great lengths to detach the fan from the power supply. No fan, therefore. Eish.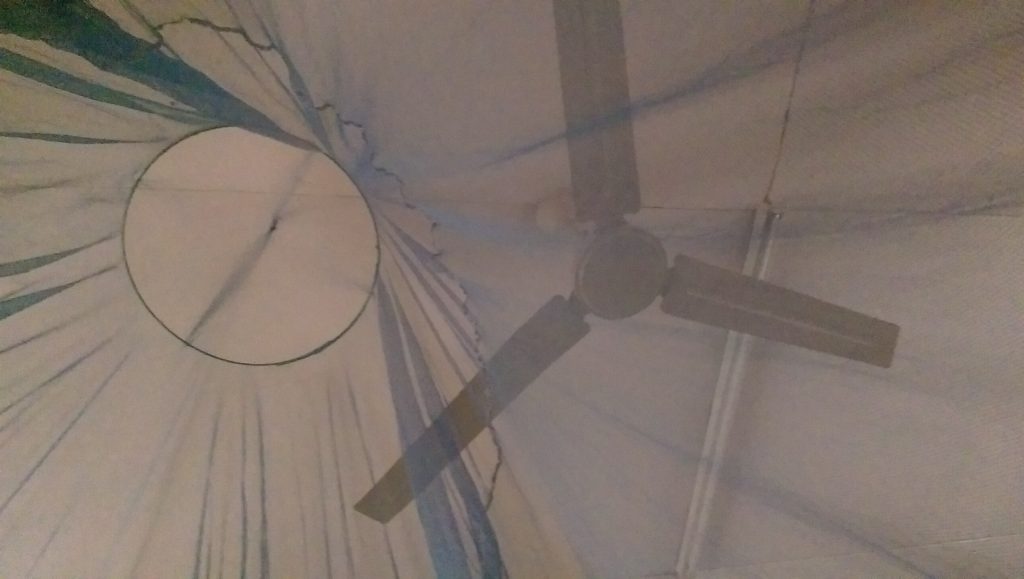 I left Malawi, this beautiful country with warm-hearted people, and my friend Chimwemwe for Lilongwe in Zambia, and I left with some regret. I definitely have to come back, my fourth time, or more. And a surprise encounter at the Zambian border suggested how deeply connected I am to Malawi – a woman who did not look particular familiar to me (shame on me!, actually) addressed me, saying: "Aren't you Chimwemwe's friend?" I'm no stranger here anymore … Tsanani bwino, tianana!