I'm out of the bush, and hours later I get to Gulu, the most important town in northern Uganda. I have covered Gulu and its more recent history and contribution to literature elsewhere, so I shall skip it here. I liked the place, went out to a club, did my first photo tour around the market. It was here that my idea for a photo series was born – African Women at Work.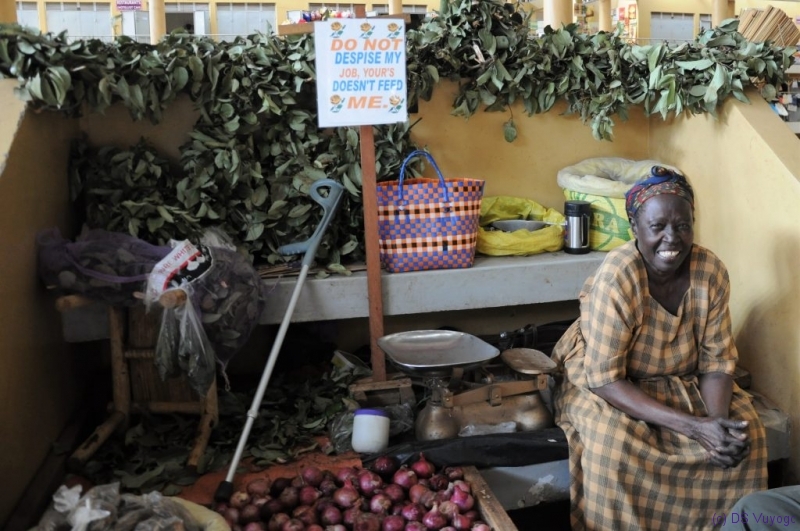 Upon leaving Gulu it becomes clear to me that I'm now officially on the road through Africa, well through some countries at least. I had decided against going further up north, to Kidepo, as I had originally planned. My optimism about the car did not go so far, and further north you're really left on your own, roads become worse and worse, and generally things are more difficult. Like everything. I did not need that. So I'm off to Mbale in the east. There are again some firsts: stopping in a town and asking for a local restaurant, stopovers near villages, taking passengers. Everything went fine.
In the early evening I arrived in Mbale, the town where my Göttingen friend Martina once spent three months some years ago on a research project. African towns of this size, in my experience, do not differ much at first glance. You have to be there for a while and take a closer look to see their character. So I was not immediately impressed by Mbale. Eventually I tried a hotel, and taken by the huge size of the room they offered me and the bathtub it came with, I agreed to a somewhat higher price than I had planned. Trust me, I did enjoy the bathtub! Strangely, the place had no Wi-Fi, and they directed me down the road to the Traveller's Inn, another hotel. This had a lovely atmosphere, nice food and Wi-Fi for free – the next morning I quickly overcame my self-consciousness and checked out from the one and in to the other place. Good choice! It was nice staying here, and I'm still in contact with one person from here. She was the first lady who was offered to me for marriage, half seriously? Later on, women would propose themselves, but here things were different. So there's a development in that theme 😉
Another theme I came in touch with was shyness of waiters, or of a single woman on a lunch date. One of the waitresses was so hard to understand because, I believe, out of shyness she always spoke under her voice. And that lunch date, well, as a guy you have to talk and talk and talk, otherwise there will be much silence. Shyness? Cultural differences? I was learning, am still.
If you like hiking, Mbale is the place for you, as a base for day tours. Mount Elgon National Park allows hikes for several days, even into Kenya, through dense rain forest. On the way you can visit caves, slide down slippery slopes, and get sprayed by huge waterfalls. I only dipped into that experience, went on a three-hour hike with my guide Alex and later to Sipi Falls (Mitch, whom I met in Rwanda, has some nice drone coverage at ca. 6:00), and on another day up to Wanale Ridge, where the bad quality of the so-called road contributed much to the decay of my Rav4.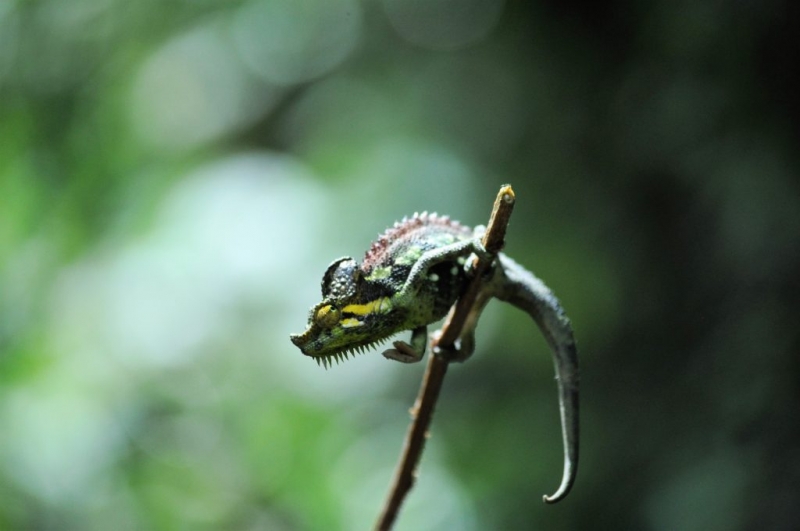 Alex and I got along well. Eventually we reach Kapkwai cave, and he relates to me how among the local Sabaot people mothers of twins are welcomed at this cave with some celebration that apparently mocks the twins' father. Or so. As he went on explaining, I interrupted all that talking about things and suggested a performance of it all during which I could imitate the drum after his example. Here you go – beware, nipple alarm! 😉
At Sipi Falls my guide was called Wilfred, like my father (never mind minor spelling differences), and the local warden Walter, like my grandfather, and I thought if someone fetches a lady named Karin, I have almost my whole family together – in black 😉
I increasingly developed scruples taking pics of children. It is one of the most used and abused photographic sujets in Africa, and it is here that I start thinking about the ethics behind photographs like this. After all, the two will never see this picture, by any likelyhood. Much later, in Zambia, the Irish guy Simon shows me his instant photo printer. Perhaps that's a partial solution?! Also, there is the issue of "poverty porn", as some call it, and I notice a tendency in myself to romanticize this rough life. I need to consider this more closely.
Driving down from the mountains into the setting sun, I am suddenly overcome by pure joy: it feels like all Africa lies at my feet. I'm here, I've done it. Wow, I tear up.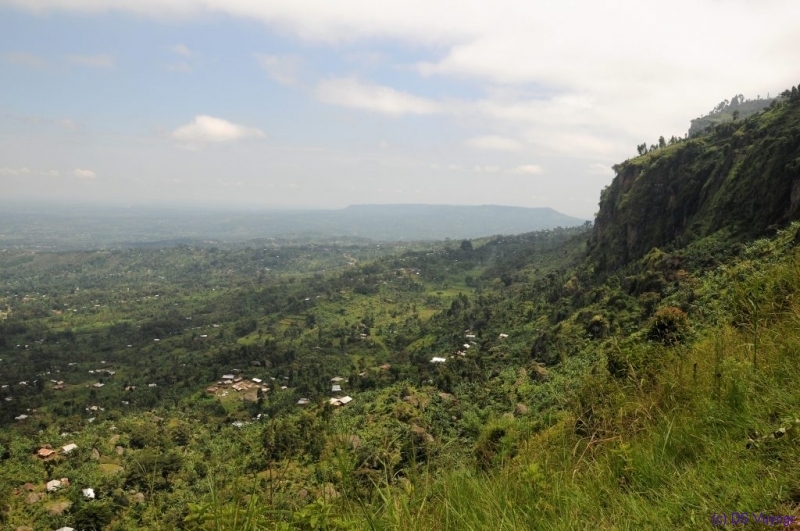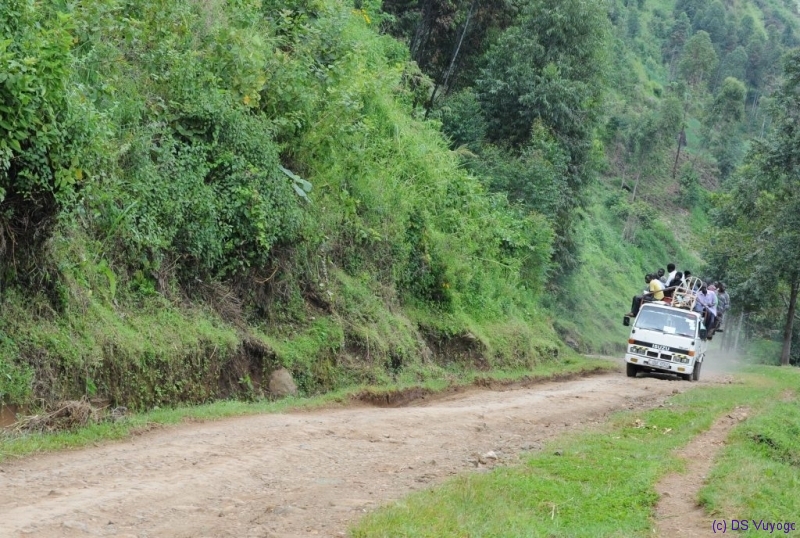 Another day tour takes me to rock-art sites. There are lots of them in East Africa, but they are fairly deserted places, except of course for nearby villages. East African rock art mainly stems from BaTwa people, the first (?) people in the Great Lakes Region. At any rate they were here before the BaNtus drove them away into remote mountain regoins and forrests, from where modern-day policies for the protectioin of National Parks drive them out into poor villages with no jobs and generally bleak prospects. I become more and more interested in them, not least because of their polyphonic music. If you want an insight, watch Louis Sarno's Song from the Forrest.
My first two rock-art places were Komuge, where I also met Peter, who offered himself as aguide and who told me about how he hid in the caves to avoid falling in the hands of Kony's LRA militias. While Kom.uge is rather unknown, Nyero has quite a reputation, and one of the paintings, a sun-like design in the ceiling of a low cave, features on the current Ugandan 1,000 shillings note.
Coming from a restaurant at night, with the streets pitch dark, I see the curb in front of me, quite high, so I step over it with some conscious effort in order not to trip – and then I fall into one of those deep trenches they have in this part of the world, what with the rainy season and all. I had completely forgot about them. Eish, it is painfull. My right leg is hurt badly, blood is running down inside my jeans. Thankfully it had rained that day, and there was no stale muddy god-knows-what kind of drainage water in that trench. Back in the hotel, I tried to shower, and applied some disinfectioning cream and put on a bandage. The leg would hurt badly for another two days, during which I didn't do anything. People in my hotel were really nice, everybody asked how I was doing, especially the cleaning ladies seemed concerned. And it would take a solid two months before I considered the wound healed.
So with a delay of two days I headed on to Jinja to meet Katharina and her family.