When I realized that entering Tanzania overland from Rwanda was going to be difficult, amongst other things because visas are not issued at the border, and also considering the size of the country and costs involved in entering the Serengeti or Ngorongoro, I decided to deviate from my plan, took a flight to Dar es-Salaam and cut my stay short. After all, I wanted to attend a festival in Malawi in early November, and it felt like I'm running out of time. Seriously? Anyway, my plans changed, I planned on two weeks only in Tanzania. Air Rwanda was as impressive as Rwanda itself, and the flight was truly pleasant. On that note, I've come to love the airport announcement tinched in heavy Bantu r/l-mixups that wish you a "prresent frright" instead of a "pleasant flight", that's what it sounds like anyway.
Dar es-Salaam has the air of multicultural metropolis. It's great for food and shopping, and I know I need to come back.
One thing I learnt was about backpackers hostels. I stayed at The Slow Leopard, and let me say it's a great place to be – if you like backpackers places. And I cannot really complain about the place as such, it kept every promise the booking process had made. However, I've come to realize that such a place is not for me anymore. I see it as a white bubble that could be anywhere, India, Turkey, Chile, with its generic house music or the twentieth Best-of Bob Marley on for 24/7. The burgers and chips. I am not criticizing the place as such, I even met some nice people I'm still in touch with. But I rather stay in low-middle-class African hotels that have local flavour, and thus feel connected to the environment I have obviously chosen to go to rather than to seek refuge in that, yeah, bubble. It's been 25 years that I stayed in these places, time to move on.
So cutting my stay in Tanzania short, and being quite tempted to spend some time near the sea, Zanzibar was my next destination. What a lovely place to be! The sea, the mix of cultures – Arabic, Indian, African – not least in the food – I just loved it even though the week I spent there turned out to be unusually rainy. As for food: Luukman's in Stonetown – yup, go there! One of my favourite places is Jaws Corner. Its masculine atmosphere attracted me – women and regular tourists are passing through, and the latter take pictures without asking as if they are walking through a big zoo. I got myself a coffee from the guy in the corner, sat down and watched. Two old men were playing domino, and what a drama it was, although it became clear that they must have been engaged in this ritual for decades possibly. I returned the next day, and asked one of them who was present – "It seemed to me you are really old friends", which he confirmed with a big smile. I had no money on me for some reason, and immediately one of the men bought a coffee for me. I decided there that, like in Rwanda before, I need to get to know people first, and ask, before I take a picture. And on most occasions I follow this rule. Think about it! – yeah, I leave you with that.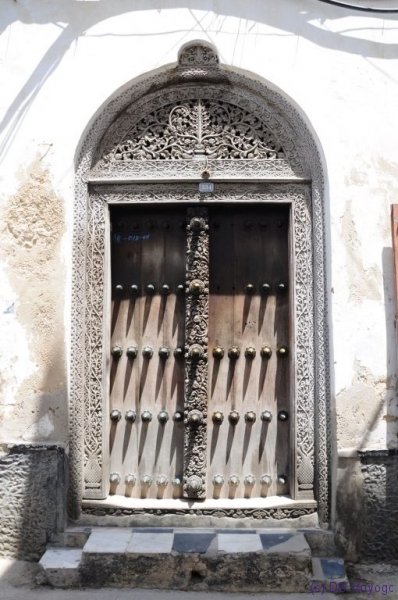 I had a number of other wonderful encouters here: musicians, Flora and Pendo in their shop – and thanks, Pendo, for the recording of "Malaika"!, Lucy, who invited herself to a big dinner of 1kg of fabulous fish, and so on.
A memorable incident: at Waikiki (in Pwani Mchangani), which is in Italian hands, a British guest complained about the food. The local waiter listened, then went to fetch the manager, Simone. Simone was proud of his Italian cuisine, and rightly so. When the British tourist said "The food was terrible", his response impressed me a great deal, because it carried pride in his work and self-confidence and was still respectful. He said, "I hear you, but I don't accept. If you didn't like it, that's fine, and we will refund you. But our food is not terrible.", and he would not waver. I mentioned this later on to the black manager, telling that this is the kind of self-worth and confidence I wished to see in local staff, whose submissiveness I found increasingly annoying by then. (In the meantime someone almost convinced me that there's also a tradition of hospitality involved which is expressed in this way. It may well be so.)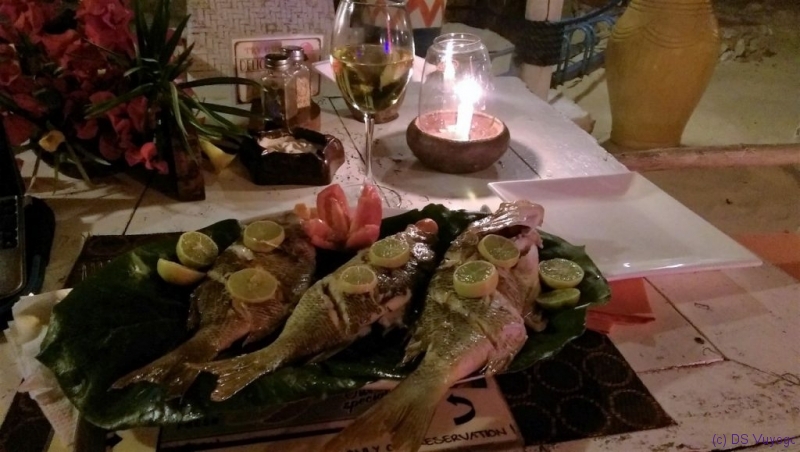 There's a lot more to do in Tanzania, and since I flew out to Malawi, I did not even get to see much of the land from a bus – or as have been told since, the incredibly good train going down south. So I will have to return, and spend more time here.
Decisive songs: "Malaika" and Platnumz Diamond "Salome"