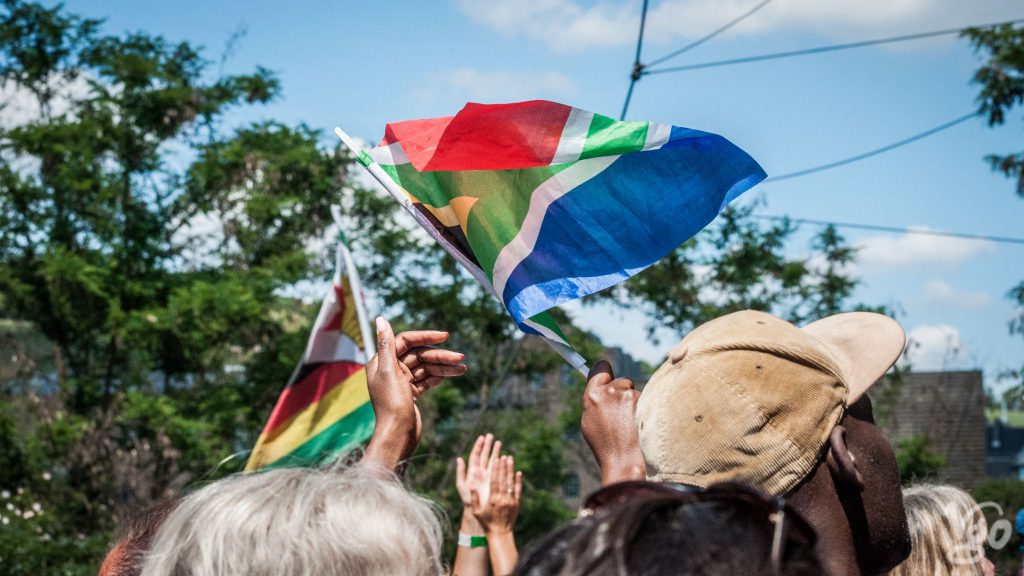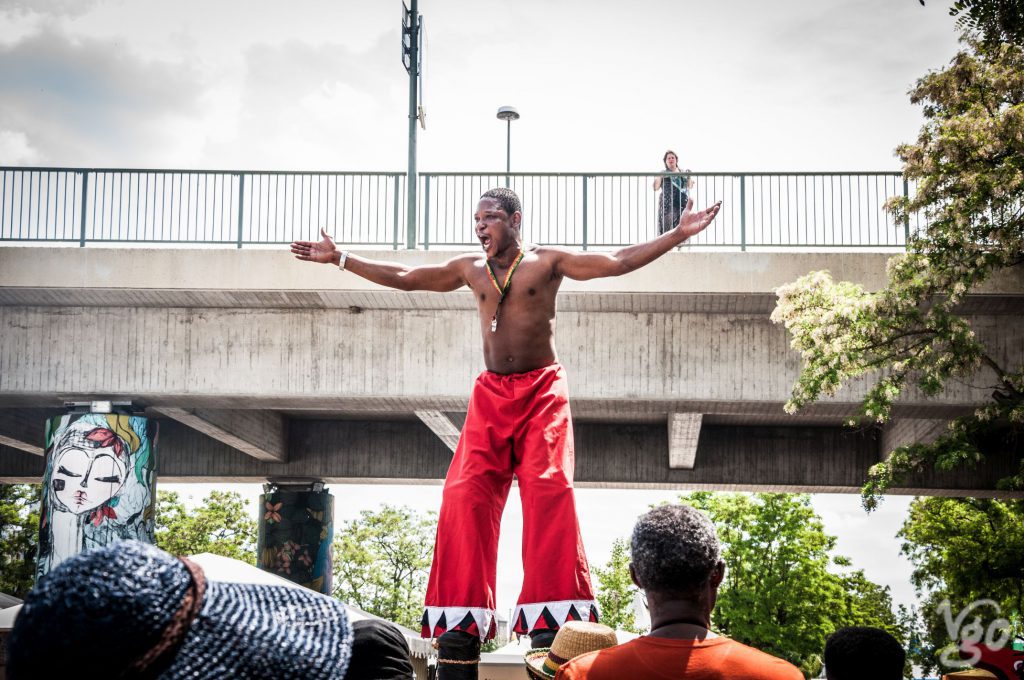 End of May – time for the biggest celebration of Africa in Europe! For 31 years Würzburg has hosted the Africa Festival, a four-day festival of food, African clothes, fabrics, instruments and curios – and, of course, music. A smaller open-air stage for afternoon performances, and a big tent for the two evening concerts now attract some 80,000 visitors, many of whom stay on the nearby campsite which features the sound of various drum groups almost non-stop.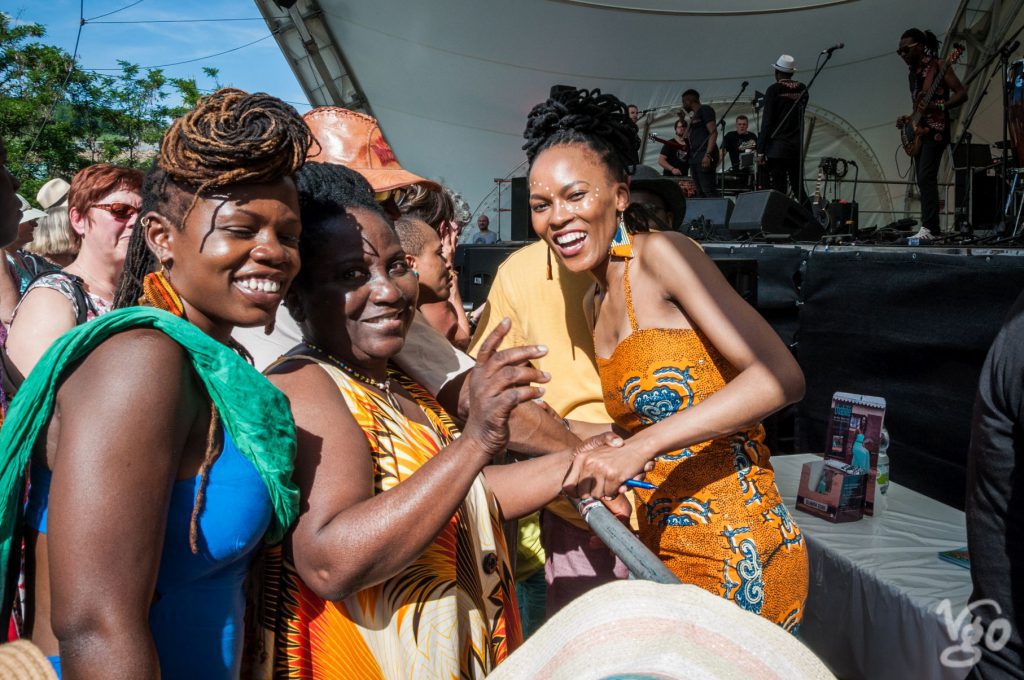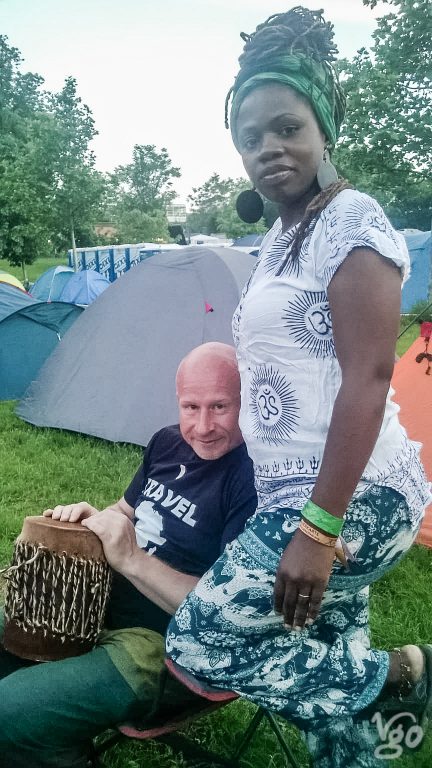 I have been here several times, and I love the setting, the atmosphere. Along the banks of the river Main, with a good view of the Würzburg vinehills, this is a great place to go for an early-summer weekend. This time I was in the lovely company of Chimz and my friend Enoch. For him it meant topping up on desperately needed Zim vibes.
We camped together, and had fabulous braai (bbq) with nsima (sadza for Enoch) and all.
Besides shopping, eating and enjoying the music, the festival also features other performances, like the Ghanian acrobates below.
What is increasingly annoying, however, are some restrictions, especially on photography. No cameras are allowed in the main tent during the evening concerts, and security will pester everyone who's trying to take a few shots of the stage with their smartphones. Seriously? It's, I suppose, about copyright for the tv stations that are involved. Hence, I have to do with clips from elsewhere for some of the bands I want to mention here.
Moh! Kouyaté (Guinea)
I had seen him live before. Great guy, very accomplished musician, and the music is fab!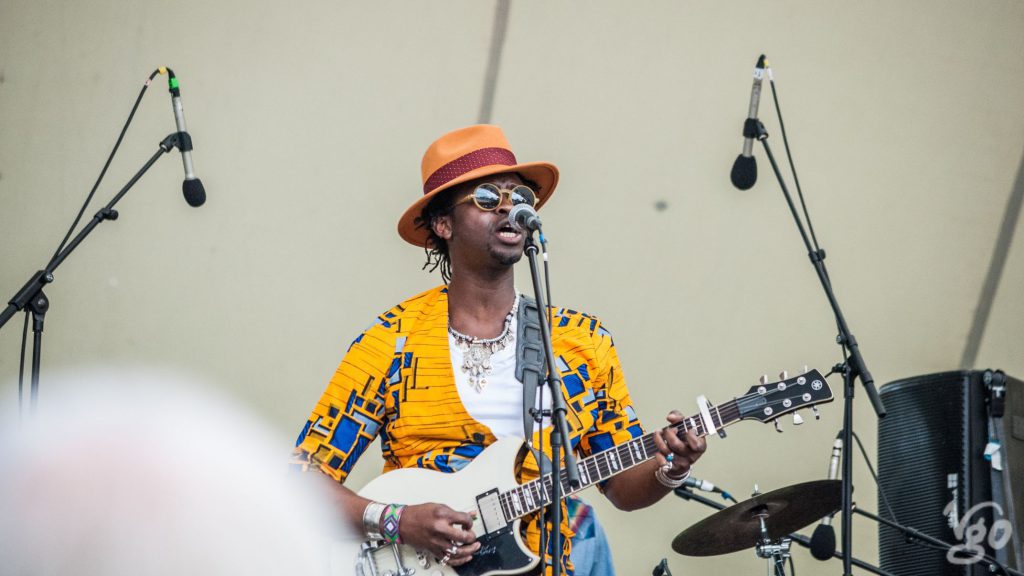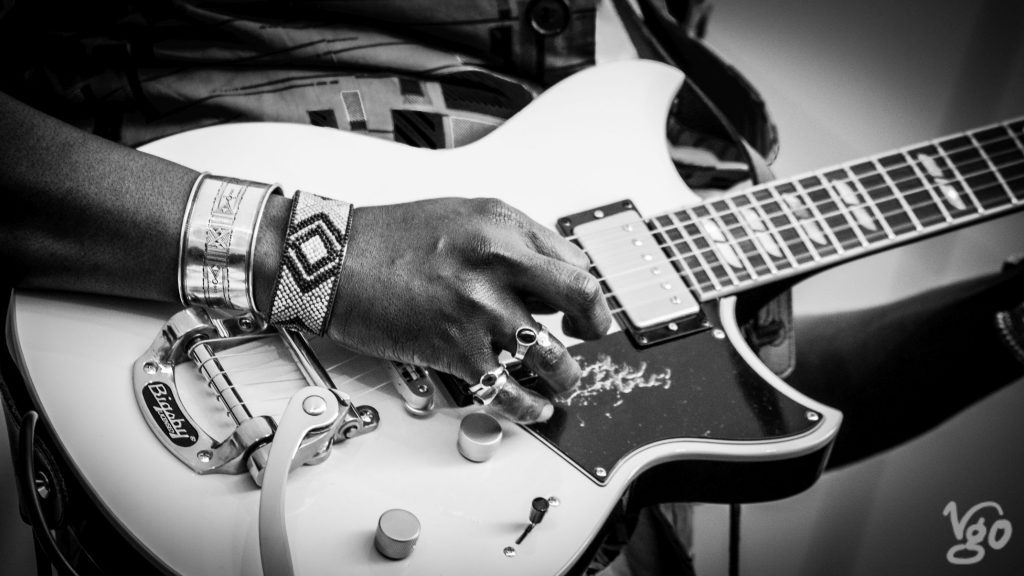 Calypso Rose (Trinidad)
One of my absolute highlights! Rose McCartha Linda Sandy Lewis may be almost 80 years old, and she may have to be lead onto the stage by more than one helping hand, but once she's there, she IS THERE! The stage is hers, and what with the great music and her charming sexual innuendos she's spreading some calypso heat. Go to see her as long as we're still blessed with her earthly presence.
Ndlovu Youth Choir (South Africa)
Another highlight. I came to appreciate South African choirs while zapping through tv channels in my Jo'burg home every once in a while, but didn't get to see any of them live. Now this one is absolutely amazing – and a great example of how a lack of privilege, how a truly precarious youth as an orphan and in poverty need not be the end of the road for anyone. Provided though society lends a helping hand and encouragement.
Femi Kuti (Nigeria)
This is as close as I will ever get to Fela Kuti, one of my heros, musically and otherwise. His son, Femi, has inherited that vibrance and energy – it is pretty incredible how this 57-year old rocks the stage to the blasting brass and steady pulse of Afrobeat.
B.C.U.C. (South Africa)
Old acquaintances really, and by now some in the band wave a hand from the stage when they see me – after Jabulani, Hamburg, Jo'burg, now Würzburg. Again, though, we couldn't have a beer together. Next time! I wann rock to your music again, fo sho. May I say that this time especially their singer, Nkosi "Jovi" Zithulele, in his talk about the significance of death struck me as a natural therapist.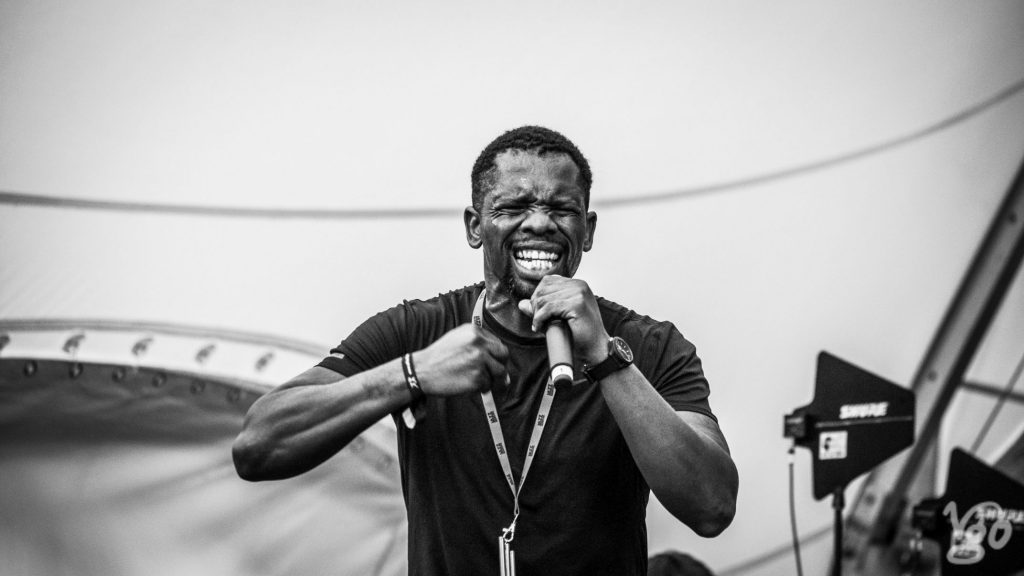 Thabilé (South Africa/Germany)
Funnily enough, this was my first live encounter, and I thoroughly enjoyed it. Steve, the guitarist, and I have been Facebook friends for years, which has led to some online conversation every once in a while. Now we did meet in person for the first time – southern Germany, where they are based, indeed is far away from here! 😉
Mokoomba (Zimbabwe)
Old acquaintances, too. I saw them live for the first time at Lake of Stars in 2015, and I was amazed back then, and I am still amazed now. What a fortuitous get-together of schoolfriends from a disadvantaged high-density township outside touristy-posh Victoria Falls town! They are simply perfect at what they are doing, on stage and in the studio. Their performance here immediatley turned into a celebration of Zimbabwe, what with all the flags (the most numerous in the course of the whole festival). We met some of the band members later on at the camping, and I kept on telling them about the share they have in me and Chimz, who I first met at Lake of Stars in 2015, coming together. 😉
Read more about them here, but more importantly: see them live!
Touré Kunda (Senegal)
A legend, and I am fond of some of their early pieces. Yet, their live performance here was too soft for us, too much in the way of Africanized French pop. Whatever, a few songs into their performance, we left – I don't do that normally, but here it saved my evening since we rather hit the dancefloors.
Here some links with videos. The silly restrictions that are in place mean that there is virtually no live coverage available on the usual platforms, eish!
https://www.ardmediathek.de/br/player/Y3JpZDovL2JyLmRlL3ZpZGVvLzRmOWU5MThiLTFlMjYtNGZiOS1iZWZkLTNkMThjYjNjNDAzYQ/
https://www.br.de/mediathek/video/zum-31-mal-africa-festival-in-wuerzburg-gestartet-av:5cf165eb5de54b001a891978
Here's a list of all the bands that have performed at Würzburg – it reads like a 31-year Who's Who in African music (update 2019 still missing at the time of writing).